Antioxidant Lip Repair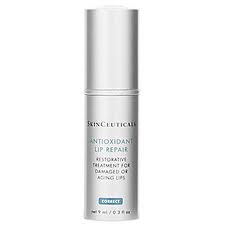 RESTORATIVE TREATMENT FOR DAMAGED OR AGING LIPS

Two powerful antioxidants, Vitamin E and Silymarin, form an exclusive combination antioxidant therapy for the lips. This potent treatment helps prevent signs of premature aging, while restoring moisture and smoothing the lip surface. Unlike any other area on the body, the lips are a transitional tissue lacking natural defense mechanisms. Specifically, lips are naturally dry, have little natural sun protection, are particularly sensitive to dryness and damage, and are subject to such complications as carcinomas and cold sores. Special botanical emollients hydrate and heal dry, cracked lips, while an AHA-free exfoliating complex accelerates cell renewal to smooth deep lip lines for full, healthy lips.



The way it helps

Exclusive and innovative ingredient complexes
support collagen synthesis, hydration and lipid retention

Aha-free exfoliation
smoothes lips without irritation and accelerates cell renewal

Elegant, smooth and creamy formulation
penetrates quickly, leaving lips soft and moist

Directions for Use

Daily lip treatment (use light application and follow with sunscreen)
Intense overnight treatment
Cold sore prevention
For relief of lip dryness due to Accutane®



Application Tips
Dispense a droplet-sized amount of antioxidant lip repair onto the tip of your index finger, dab it
onto your lips and gently massage it into the skin.