C E Ferulic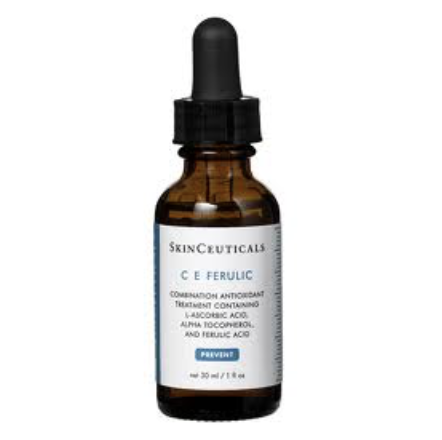 COMBINATION ANTIOXIDANT SERUM CONTAINING 15% L-ASCORBIC ACID, 1% ALPHA TOCOPHEROL, AND 0.5% FERULIC ACID

C E Ferulic is a revolutionary topical antioxidant combination that provides unprecedented 8-times the skin's natural photoaging protection. Culminating more than 10 years research and testing, this latest antioxidant breakthrough contains the original potent formulation of 15% pure L-ascorbic acid and 1% Alpha Tocopherol. However, the addition of Ferulic acid – a plant-based antioxidant – has transformed the formula, doubling performance of the already powerful combination.
This synergistic formulation provides unmatched protection against UV induced erythema, free radical formation, and cellular damage that result in premature skin aging. Daily application of this cutting-edge serum, along with the use of a broad-spectrum sunscreen, offers ultimate protection from UV light and associated skin damage.



The way it helps

Enhances protection against damaging UVA/UVB rays
to better prevent signs of premature aging while stimulating collagen production to diminish the appearance of photo damage.


Directions for Use

photoaged or photodamaged skin

dry or sensitive skin / poor skin elasticity

erythema

hyperpigmentation

beginning 30 days before and/or 7-10 days after invasive or non-invasive procedures




Application Tips
Once in the morning after cleansing, apply 4-5 drops to a dry face, neck, and chest.
List of Ingredients
Aqua / Water / Eau, Ethoxydiglycol, Ascorbic Acid, Glycerin, Propylene Glycol, Laureth-23, Phenoxyethanol, Tocopherol, Triethanolamine, Ferulic Acid, Panthenol, Sodium Hyaluronate