Hydrating B5 Gel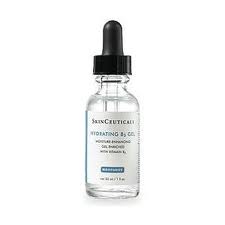 Moisture-enhancing gel enriched with vitamin B5
Enriched with vitamin B5, which is known to help with tissue repair, hydrating B5 gel replenishes nutrients the skin needs to feel smooth and appear younger. This moisture-enhancing gel contains Hyaluronic acid, the body's natural hydrator, to bind moisture to the skin. Hydrating B5 gel is recommended for use with vitamin C treatments and will help maximize the benefits of your daily moisturizer.



The way it helps

Contains Hyaluronic acid
acts as a natural humectant for the skin, adding hydration to the epidermis

Contains vitamin B5
helps with tissue repair and replenishes nutrients

Moisture enhancer
maximizes benefits of a daily moisturizer

Oil free
ideal for all skin types

Can be used frequently and on all parts of the body
hydrates hands, feet, elbows, knees, and other rough, dry areas needing
additional hydration

Directions for Use

Dry, delicate, or dull skin
Oily skin
During air travel
Dry, chapped lips, hands or feet


Application Tips
Once or twice daily, apply 2-3 drops to face, neck and décolleté avoiding the eye area.


May also be applied to other dehydrated areas.
List of Ingredients
Aqua / Water / Eau, Phenoxyethanol, Calcium Pantothenate, Sodium Hyaluronate