Retexturing Activator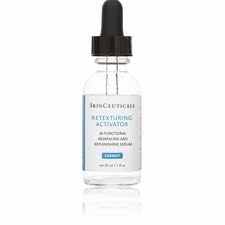 BI-FUNCTIONAL RESURFACING AND REPLENISHING SERUM

This revolutionary resurfacing and replenishing serum surpasses the results of a 20% daily glycolic treatment while simultaneously reinforcing the skin's barrier for healthier, more radiant skin. Retexturing activator harnesses two polar mechanisms — exfoliation and hydration — to activate skin's regeneration response, visibly diminishing surface lines and transforming skin's fabric into a smoother, softer texture.


Using patent-pending technology, this unique treatment contains a 25% concentration of a Paradoxal compound discovered to be highly effective at promoting cell differentiation while optimizing the skin's amino acid supply to reinforce the barrier, resulting in the most efficient epidermal renewal. Potent without harsh side effects, retexturing activator is formulated in an efficient, oil-free delivery system suitable for all skin types.

The way it helps

25% Hydroxyethyl Urea/Aminosulfonic acid compound
Natural moisturizing factor (nmf)
Kombuchka
smoothes skin
improves radiance and skin tone
Hyaluronic acid
provides a non-irritating, hydrating base
Directions for Use

Daily exfoliation and hydration
Dry, dull, dehydrated skin
Aging skin
Acneic skin
Before non-invasive rejuvenating procedures (e.g. Laser, microdermabrasion, peels)



Application Tips
Twice daily, apply 4-6 drops to face, neck, and chest.
List of Ingredients
Aqua/Water/Eau,Hydroxythyl Urea, Hydroxyethylpiperazine Ethane Sufornic Acid, Pentylene Glycol, Saccharomyces/Xylinum/Black Tea Ferment, Glycerin,Sodium Hyaluronate, Methylparaben, Phenoxyethanol, D35920/4.