Sheer Physical UV Defense SPF50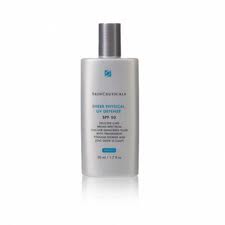 Sheer Physical UV Defense breaks ground among physical sunscreens as a first-to-market transparent, mattifying fluid that is paraben-free with an SPF 50 protection level. Through an optimized preservative system, minimized chemicals, and all-physical proven broad-spectrum filters, SkinCeuticals fills a void in the sunscreen market by providing increased protection in a non-irritating, ultra-sheer texture for all skin types, even very sensitive.

The photoprotection of trusted broad-spectrum, physical filters, 5% zinc oxide and 6% titanium dioxide, is enhanced by artemia salina, a plankton extract that increases skin defenses and resistance to UV and heat stress. This silky sheer fluid spreads evenly and dries quickly, leaving no residue.


The way it helps

Evenly distributes active ingredients for enhanced effectiveness


Sheer mattifying texture ideal for oily and acneic skin types Non-comedogenic


Physical Sun Filters Only


No sensitivity issues common to chemical sunscreens


Usable by all skin types Broad-spectrum UV protection


Artemia Salina


Increases skin defenses and resistance to UV and heat stress







Key Ingredients

Z-COTE®
Microfine zinc oxide provides broad-spectrum protection against burning UVB as well as aging UVA rays
Particle size and distribution characteristics spread evenly and provide a non-whitening effect
In addition to being an approved sunscreen ingredient, zinc oxide is recognized by the FDA as a Category I skin protectant
TITANIUM DIOXIDE Microfine titanium dioxide is a non-chemical SPF contributor protecting against UVB and low range UVA rays
ARTEMIA SALINA (a plankton extract)* Increases skin defenses and resistance to UV and heat stress
Induces Heat Shock Protein 70 (HSP 70) Heat shock proteins protect skin proteins, including collagen, against UV damage

Directions for Use
All skin types, even very sensitive
Sensitive or compromised skin
Post procedure
Under makeup


Application Tips
Shake well before use. Apply daily to face, neck, and chest, or apply liberally before sun exposure.
Use before applying makeup.
Reapply every two hours and after swimming, excessive perspiring, or after towel drying. For children under six months of age, consult a physician before use.