ZO Skin Health Product Line
Featuring powerful ingredients and effective delivery systems, ZO® Skin Health products and programs make it possible for healthcare professionals to recommend a home-care regimen that enables patients to experience healthy skin every day.


Stimulating Dermal Cellular Function

Retinol, a vitamin A derivative, is one of the few substances with small enough molecules to penetrate the epidermis and reach skin receptors to stimulate the natural production of collagen and elastin. Collagen and elastin are the core building blocks of healthy skin.

The ZO® Key to Skin Health – Stabilization and Correction

Stabilization and correction is the process of improving barrier function to increase skin tolerance and eliminate weakness through:

Restoring the normal balance of the stratum corneum

Increasing epidermal thickness

Improving circulation

Minimizing inflammation

Enhancing cellular function

Controlling overactive melanocytes

Maintaining integrity of pilosebaceous units

Stimulating collagen and elastin production

Hydrates and rejuvenates without disrupting the moisture barrier. Using panthenol and allantoin to soothe, repair, and restore skin, it cleans away dead skin cells and supports cellular renewal.
Gently exfoliates and cleanses skin, reduces excess oil and neutralizes free radicals. Encapsulated vitamin E provides antioxidant protection and hydration for healthy skin.
Ultra-fine magnesium crystals exfoliate dead skin cells and increase epidermal turnover for a cleaner, smoother, more even-toned complexion.
Reduces sebum production, removes dead skin cells and deep-cleans congested pores using 2% salicylic acid
Highly stable retinol, antioxidants, and specialized DNA repairing enzymes work around-the-clock to help minimize UV oxidative damage
Ossential Growth Factor Serum uses two proprietary peptides to support collagen production for increased skin density.
A full 1% concentration of retinol stimulates new cell activity and collagen formation in aged and UV damaged skin faster and more effectively than any other anti-aging treatment.
This functional hydrator contains encapsulated retinol, powerful antioxidants and an anti-inflammatory agent to calm, replenish, rejuvenate, and repair the skin moisture barrier.
Calming agents help prevent inflammation as retinol and other ingredients work more actively overnight to repair and regenerate skin cells to help reduce fine lines and wrinkles.
Using natural melanin, titanium dioxide, and zinc oxide to provide broad-spectrum UVA/UVB protection, Oclipse is also used to smooth and prime skin for a more even makeup application.
Condition: Youthful Skin
Little or no apparent signs of chronological or photo-aging.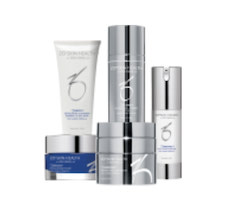 Condition: Mature Skin
Early signs of intrinsic aging--fine lines, uneven skin tone, loss of firmness.
Condition: Aging Skin
Definite signs of aging skin--wrinkles, brown patches, skin laxity, large pores, significant sun damage.